1/18/2010 Lionhead Update!

I am down to only two Lionheads. I am hoping to breed them soon. If you need to find some other than what I have, please contact the lionhead web site at www.lionhead.us.

Jersey Wooly Litters: 06/06/2009

My blue doe has had 2 babies. There is a white, and a black. I am keeping the white, and not sure about the black yet.

 

NEW BREED ALERT!! I have gotten back into himalayans. I have a breeding pair, and God willing they will give me some babies for Easter. I only have the two right now, so keep looking for updates to see if there are any babies available. The only color I have is black.

Prices starting at $20.00, then going up from there, depending on the breed, the pedigree, and the demand for that particular kind of rabbit. Anything out of my grand champion castor mini -rexes will be 30.00 unless you are in 4-H.

 
News Regarding Gunfighter 10/08/2009

Gunfighter's granddaughter, Elsa Peretti, won her first leg as a junior at the July 4th show. She is black, like her mom,Gunfighter's Heir, but she has granddad's winning charm! I will be taking pictures soon, as soon as I get my husband's pictures off my camera!

 
 
 

SAD NEWS:

I went down to check on my rabbits on Mother's day morning, and a stray german shepard had gotten in them and killed some, broken two other's legs, and a couple more died during the week of shock. It has been one of the most devastating things that has ever happened to me as a pet owner, and as a lover of animals. As I re-build my rabbitry, I have a wish for all dog owners-that you keep your dogs on your own property, and if you even suspect the dog could harm another animal, keep it away from other's animals. The owners showed up and payed me some money, but it will never compensate me for the emotional cost I continue to endure seeing what amounted to a murder scene in my rabbitry.
12/26/2008: I won the District 6 Sweepstakes for 2007 & 2008 for the Lionhead club! Two years in a row-who would have thought! This was an unexpected and great honor for me. I was very pleased to see my hard work breeding and showing had paid off somewhere in one of my breeds. Now on to more challenges in the future!
This is Rachel's Mini Rex chocolate buck, Mocha Latte.
Rachel, Easter, another great bunny holiday!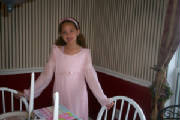 Gunfighter, Thanksgiving Day, 2006.